Overview
The Achilles tendon is the largest tendon in the body. Tendons are long, tough cords of tissue that connect muscle to bone. The Achilles tendon is located in the back of the foot and connects your heel bone to your calf muscle. It helps you to walk, run and jump. The Achilles tendon is able to endure stress, but sometimes injury can occur to the tendon when overly stressed. Overuse of the Achilles tendon may cause the tendon to swell, become irritated, inflamed and cause pain. This is Achilles tendinitis. It is a common sports injury related to running, but can happen to anyone who puts a lot of stress on their feet (e.g.: basketball players and dancers). If you do not get treatment for Achilles tendinitis, the problem can become chronic and make it difficult for you to walk.
Causes
Tendons are the tough fibres that connect muscle to bone. Most tendon injuries occur near joints, such as the shoulder, elbow, knee, and ankle. A tendon injury may seem to happen suddenly, but usually it is the result of many tiny tears to the tendon that have happened over time. Health professionals may use different terms to describe a tendon injury. You may hear, Tendonitis (or Tendinitis): This actually means "inflammation of the tendon," but inflammation is rarely the cause of your tendon pain.
Symptoms
The onset of the symptoms of Achilles tendonitis tend to be gradual, with symptoms usually developing over a period of several days, or even weeks. Symptoms may include, Pain, this may be mild at first and may only be noticeable after exercise. Over time the pain may become constant and severe. Stiffness, this is usually relieved by activity. Sluggishness in the leg. Tenderness, particularly in the morning and most commonly felt just above where the tendon attaches to the heel bone. Swelling.
Diagnosis
The diagnosis is made via discussion with your doctor and physical examination. Typically, imaging studies are not needed to make the diagnosis. However, in some cases, an ultrasound is useful in looking for evidence of degenerative changes in the tendon and to rule out tendon rupture. An MRI can be used for similar purposes, as well. Your physician will determine whether or not further studies are necessary.
Nonsurgical Treatment
If you have ongoing pain around your Achilles tendon, or the pain is severe, book an appointment with your family physician and ask for a referral to a Canadian Certified Pedorthist. Your Pedorthist will conduct a full assessment of your feet and lower limbs and will evaluate how you run and walk. Based on this assessment, your Pedorthist may recommend a foot orthotic to ease the pressure on your Achilles tendon. As Achilles tendinitis can also be caused by wearing old or inappropriate athletic shoes for your sport, your Pedorthist will also look at your shoes and advise you on whether they have appropriate support and cushioning. New shoes that don?t fit properly or provide adequate support can be as damaging as worn out shoes.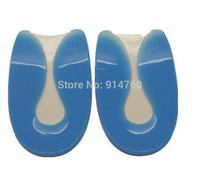 Surgical Treatment
Surgery can be done to remove hardened fibrous tissue and repair any small tendon tears as a result of repetitive use injuries. This approach can also be used to help prevent an Achilles tendon rupture. If your Achilles tendon has already ruptured or torn, Achilles tendon surgery can be used to reattach the ends of the torn tendon. This approach is more thorough and definitive compared to non surgical treatment options discussed above. Surgical reattachment of the tendon also minimizes the change of re-rupturing the Achilles tendon.
Prevention
Suggestions to reduce your risk of Achilles tendonitis include, icorporate stretching into your warm-up and cool-down routines. Maintaining an adequate level of fitness for your sport. Avoid dramatic increases in sports training. If you experience pain in your Achilles tendon, rest the area. Trying to ?work through? the pain will only make your injury worse. Wear good quality supportive shoes appropriate to your sport. If there is foot deformity or flattening, obtain orthoses. Avoid wearing high heels on a regular basis. Maintaining your foot in a ?tiptoe? position shortens your calf muscles and reduces the flexibility of your Achilles tendon. An inflexible Achilles tendon is more susceptible to injury. Maintain a normal healthy weight.